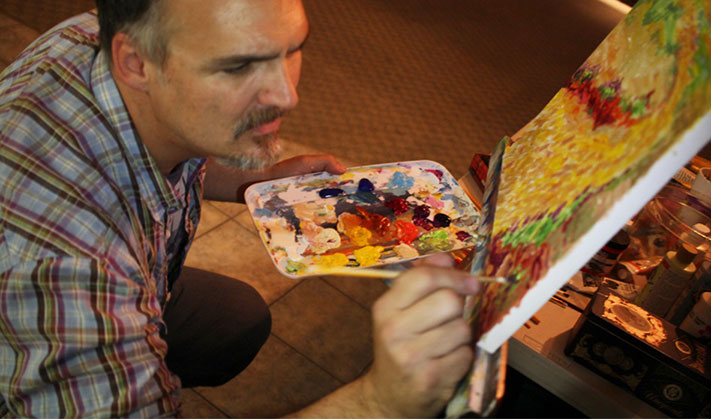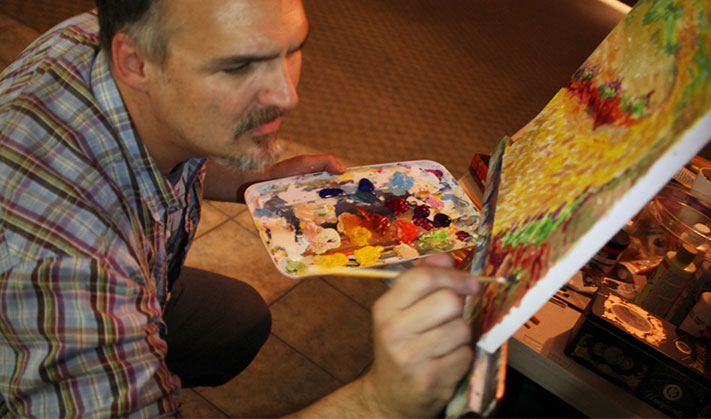 Here are a few of the many paintings I have created in and around
the Bridge church
in Carson City.  Quite a few of these were painted during worship on Sunday morning.  Several more were painted during
worship on Friday
nights.  Sunday morning paintings were nearly finished prior to the sermon starting which means the bulk of the painting was completed in less than thirty minutes.  Most of them were on point with the sermon that was being preached.  I mostly paint in acrylic, however, oil, gauche, tempura, and watercolor, have all graced my brushes.
I don't sing all that well, so part of my worship to God is to paint.  I do not paint as a form of self expression per se, I try to paint as an expression of my joy for God and what He's doing.  For me, it's like recording a worship song which can be played again and again. I believe art should point to the ultimate creator because creativity is one of the character traits of God, which He instilled in us.
It wasn't always about God for me.  I spent many years painting in a completely different mindset.  Paintings of my past were not acts of worship but closer to a form of bloodletting.  I would become obsessed with an idea and then the darkness would envelope me.  I would put on some emotional music and hash out pieces of a shattered soul and life on canvas, or in a sketchbook.  But then Jesus set me free.  I no longer paint from a place of darkness trying to measure the lint in my navel.  I paint from a place of joy – and the paintings bear no resemblance to the tortured works of the past either physically or emotionally.